Whether you're after relaxed scenic drives and picnicking, fishing or fossicking, or the most rugged extremes of hiking and biking, there are plenty of ways to get a natural high in New England High Country.
1. Cycling at Walcha
New England High Country is crisscrossed with hundreds of kilometres of mountain-biking routes, from tracks through national parks to purpose-built trails at Armidale and Guyra. The gravel roads and wilderness trails around Walcha suit everyone from those who want a couple of hours' ride to fitness fanatics taking on multi-day challenges.
You'll soon be pedalling down country roads, along rivers, through quaint villages such as Kentucky, and into national parks. Not to worry: pit stops such as Walcha Road Hotel and Commercial Hotel will fuel you up for more.
Cycling in and around Walcha. (Image: David Waugh)
2. Fishing at Copeton Dam
New England is fine fishing country, with both rainbow and brown trout thriving in its lakes and lightly fished streams. Few places are better to take up the rod than Copeton Dam, 35 kilometres southwest of Inverell, which creates a lake three times larger than Sydney Harbour and infinitely more peaceful.
It stocks perch, redfin and catfish, and is one of the only inland waterways that has no closed season on Murray cod. Several ramps allow the launch of boats, jet skis and kayaks. Don't miss walking across the dam itself for impressive lake and mountain scenery.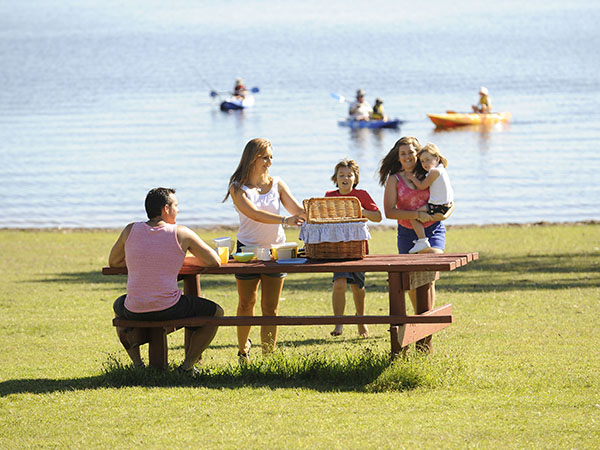 Copeton Dam just south of Inverell is perfect for a family picnic and spot of fishing and swimming.
3. Indigenous art at Mt Yarrowyck
An easy walk to suit all fitness levels (three kilometres return on a mostly level track) leads to an Aboriginal rock art site on the slopes of Mt Yarrowyck Nature Reserve. Weathered granite boulders create a striking landscape, while the depictions of figures, bird tracks and eggs in red ochre are culturally important to the local Anaiwan people.
This is also a great spot for birdwatching and, in springtime, for wildflowers. The nature reserve, which also preserves remarkable remnants of natural bushland, is 25 kilometres west of Uralla along the highly scenic Thunderbolt's Way driving route.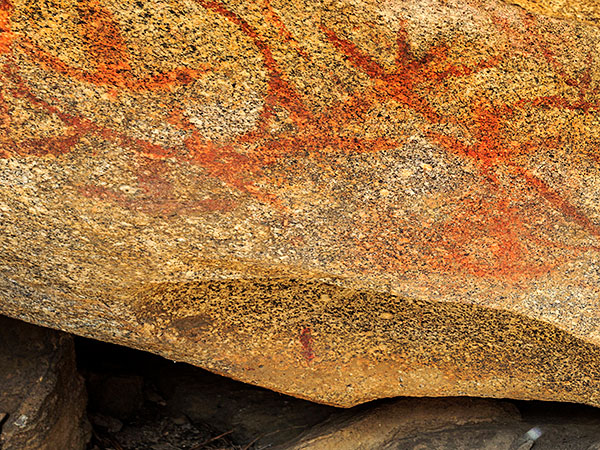 Birds, eggs and figures are depicted on the weathers granite rocks of Mount Yarrowyck Nature Reserve.
4. Scrambling on Bald Rock
New England High Country features some of NSW's most splendid landscapes, and this national park is a showcase of its rugged drama, contrasted with the dainty beauty of wattles and wildflowers.
Bald Rock National Park is the largest granite monolith in Australia, rising to almost 1300 metres. Look out for abundant wildlife, including rare spotted quolls. Shady picnic spots await those looking for an indolent afternoon, while the active can tackle rock scrambles that reach scenic views. Park access is just 29 kilometres north-east of Tenterfield.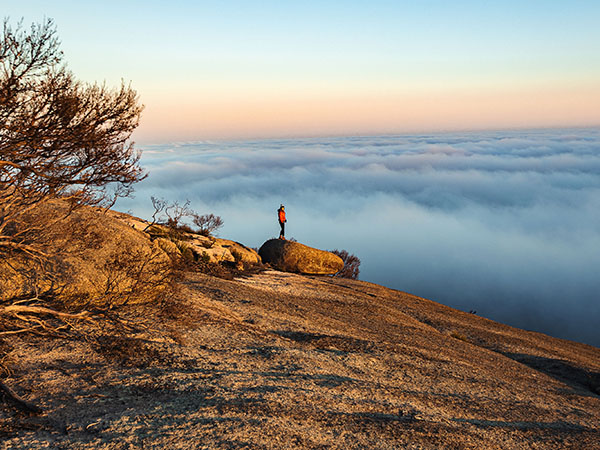 The largest granite monolith in Australia, Bald Rock is a spectacular setting. (Image: Byron Photography)
5. Flying above Armidale
If you're a thrill-seeker or just feel the need to splash some cash, then take to the skies above Armidale in a helicopter. An hour-long wilderness flight buzzes some of the most spectacular surrounding gorges including Wollomombi Gorge, deepest in NSW, as well as waterfalls such as the foaming Chandler Falls.
Want to ratchet up the adrenaline levels even more? Then buckle yourself in for an acrobatic warbird flight in the open cockpit of a vintage military aircraft above Oxley Wild Rivers National Park – and prepare to see it upside down.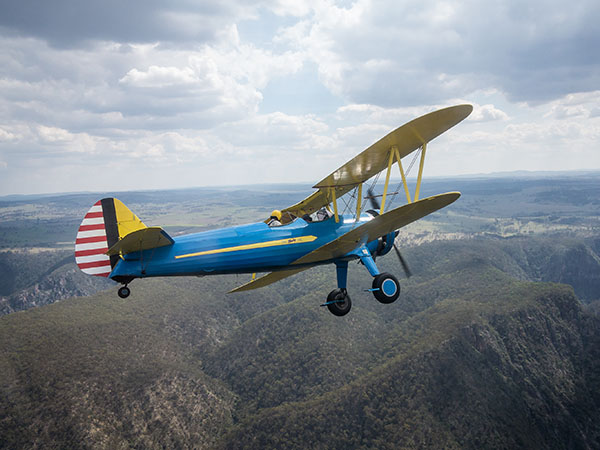 The best way to appreciate the gorges of the New England High Country is from a scenic flight in a helicopter or to get the heart really racing, a biplane.
6. Hiking Green Gully Track
Are you an outdoorsy type keen for a challenge? The grade five, 65-kilometre Green Gully Track tests your mettle in the rumpled majesty of Oxley Wild Rivers National Park.
Hikers stay in refurbished mustering huts on this remote, magnificent four-day trail that brings you deep into Apsley-Macleay gorges, one of the largest gorge systems in Australia, as well as across rocky outcrops and through fern-lined gullies.
The track begins at Cedar Creek Cottage, a two-hour drive from Walcha.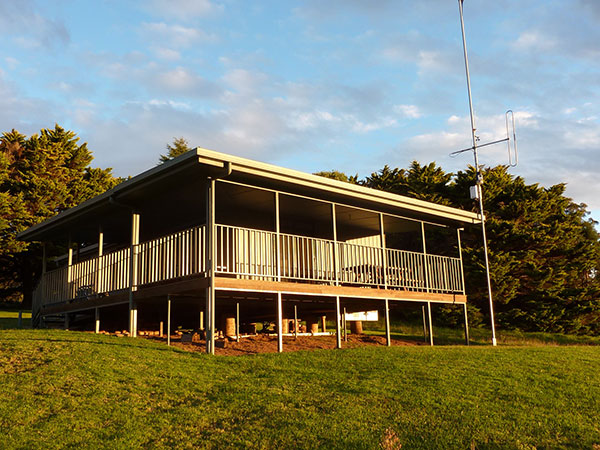 The Cedar Creek Hut, originally built as shelter for stockman, is the starting point of the Green Gully Track. (Image NSW National Parks)
7. Motoring along Old Glen Innes Road
Although there are several great motorcycle routes through High Country, the adventurous should take to the partly unsealed Old Glen Innes Road, which at times follows the Boyd River through delightful cattle country, and takes in leg-stretching curiosities such as a ghost town, bushranger hideout and tunnels carved by convicts.
The landscape features steep escarpments, rivers and valleys blanketed in lush vegetation. For a sealed alternative along a similar route, take to the Gwydir Highway, where rugged mountain landscapes culminate at Raspberry Lookout.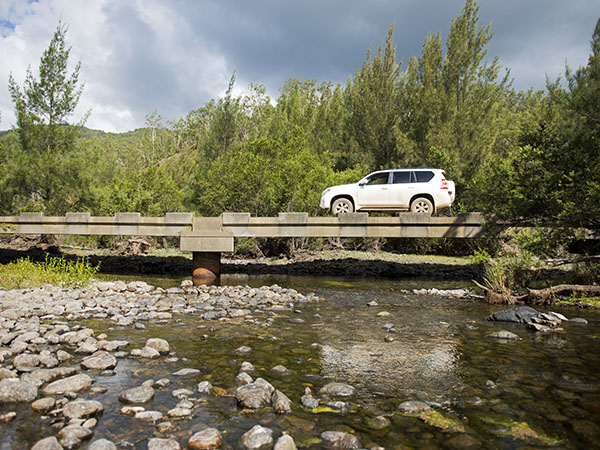 Crossing the Boy River on the Old Glen Innes road. (Image: Destination NSW)
8. Listening into nature's sounds
A unique way to experience an often-overlooked aspect of the great outdoors is to follow a trail of audio recordings that provide information on the historical and cultural stories of the region and their geographical significance. Download the Soundtrails app and, with GPS technology, you'll be directed to a soundbite near you – although you can also listen in from anywhere.
There are new sound trails to follow at Apsley Falls and Wollomombi Gorge, both in Oxley Wild Rivers National Park, and at Bald Rock and Washpool National Park.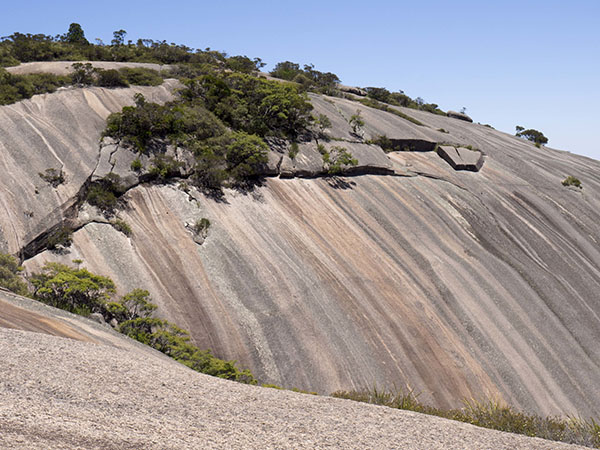 Follow the sound trail at Bald Rock. (Image: NSW National Parks)
9. Waterfall viewing at Wollomombi Gorge
There are 20 national parks in New England High Country and six are World Heritage-listed, making it impossible to single out any one highlight. Still, Wollomombi Gorge, 46 kilometres east of Armidale is a gobsmacking sight for its rugged power.
The 220-metre Wollomombi Falls, the highest waterfall in NSW, is especially awesome after rain, and easily admired from a spectacular viewing platform. You can hike the gorge rim as far as Chandlers Waterfall. Incidentally, Wollomombi is just one stop along Waterfall Way scenic drive through five national parks.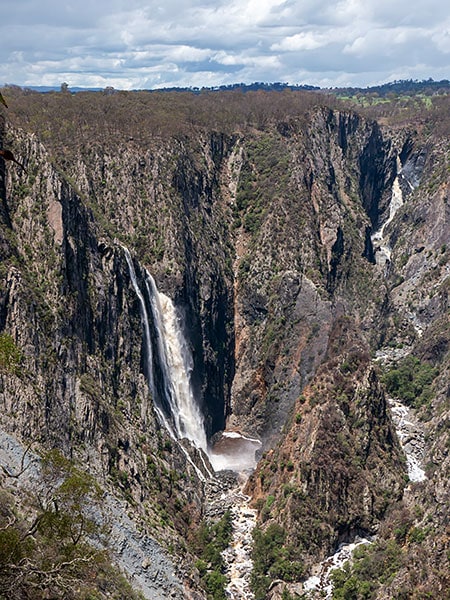 The Wollomombi Falls in full flights are spectacular. The falls are 40km east of Armidale on the Waterfall Wat. (Image: Terry Cooke)
10. Fossicking in Glen Innes Highlands
Fossickers have long hunted for gemstones and gold in New England High Country, and particularly for the deep-blue sapphires that once supplied the world market. Have a go yourself around Glen Innes, where fossicking requires no licence and is a fun way for the family to enjoy the great outdoors. Some of the best fossicking sites are beautiful streams and rivers surrounded by wallaby-hopped bushland, and several have their own camping and picnic facilities. Even if you don't strike it rich, you'll be well rewarded.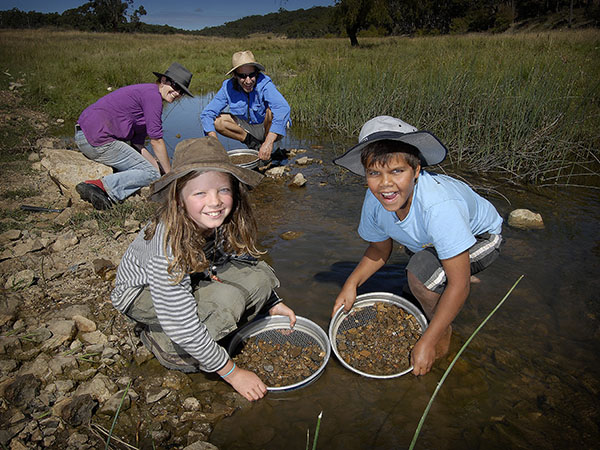 Get the kids to have fun and maybe earn their keep fossicking on the Glen Innes highlands.
Explore our website for more inspiration on its nature and adventure activities, driving routes, accommodation and much more.